Investing through the Marketplace
Since launching in 2014, the CrowdStreet Marketplace has closed 777 commercial real estate investment offerings. As of July 6, 2023 , 161 of those offerings have been fully realized.
Step 1: Confirm Your Accreditation
Only accredited investors can invest in deals available on the Marketplace. Accreditation requirements are outlined by the SEC. Find out if you are an accredited investor here.
Step 2: New Investor Orientation
Designed for the newest members of our investor community, this 25-minute deep-dive into CrowdStreet outlines what you need to know to start building your real estate portfolio.
Step 3: Create an Investing Account
You'll need an Investing Account (Individual, Joint, IRA, LLC, etc.) to submit an offer. You can create an account at any time, but we recommend you set it up before you submit your first offer by following the simple process linked below.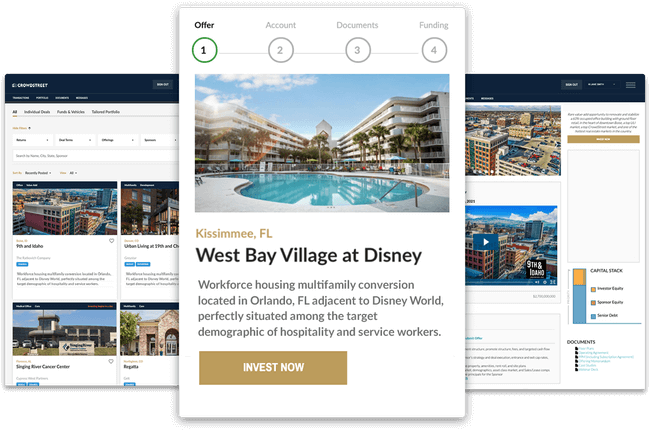 How CrowdStreet works
How CrowdStreet is Democratizing Commercial Real Estate
How CrowdStreet Sources Deals for our Marketplace
Learn about the Marketplace
How does CrowdStreet review Marketplace Deals?
Every deal on the CrowdStreet Marketplace undergoes our objective deal review process.
CrowdStreet's approval of a deal for posting on the Marketplace does not constitute investment advice or an endorsement of the particular deal. Investors are advised to consult with their financial, legal, and tax advisors on each specific offering to determine the suitability of the investment in light of the investor's circumstances and goals.
What kinds of deals are on the Marketplace?
CrowdStreet's Marketplace offers a variety of deals across the asset class spectrum, from multifamily to self-storage to data centers. Each deal has its own unique opportunities and risks based on the individual business plan.
Read about our outlook for each asset class on the Marketplace in our CRE Market Outlook.
Do you have more investment options?
Don't think choosing individual investments is for you? CrowdStreet Advisors' private managed account services offer custom-built portfolios tailored to your needs and goals.
Current Investment Opportunities
Compare and review commercial real estate projects to find the right direct investment opportunity for you. View a deal's financial documents, register for a live Q & A webinar with the sponsor behind the deal, submit your investment offers, and more.
Commercial real estate 101
Below are some commercial real estate investing terms that you need to know to get started.

What is a Cash-on-Cash Return?
Sometimes also referred to as the cash yield, calculates the cash income earned on the cash invested in a property.

What is IRR?
This annualized return metric spreads cash flows and equity return over the course of the entire holding period.

Layers of capital that go into purchasing and outlines who will receive income and profits generated by the property.