On March 9th, 2019, the bull market celebrated its 10-year anniversary, and it's generated one of the S&P 500's best surges ever. As The New York Times reported,
"The rise has generated more than $30 trillion in wealth. Adjusted for inflation, that is the most created during any bull run on record, edging out the $25 trillion in gains during the epic streak from December 1987 to March 2000, which ended with the bursting of the dot-com bubble, according to Federal Reserve data."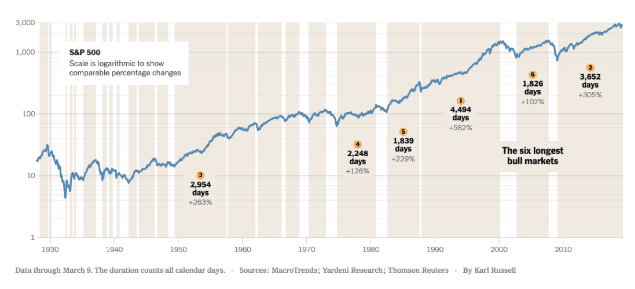 For investors that had the means and willingness to play the long game (and the bravery to step into what, at the time, looked like a full-scale market collapse), 2009 turned out to be an amazing time to buy into the stock market. The 10-year recovery of the stock market has increased some of those investors' net worth by double-digit percentages. Now the logical question becomes, "What do I do next? Stay invested or exit the market?"
Will the Bull Run End?
There a multiple reasons why this historic run might end–interest rates hikes in response to increasing inflation, heightened political risks, global markets in distress, and more. And perhaps the bull run won't end in 2019, but nothing lasts forever and the forces that pushed the S&P 500 down 6.2% in 2018 are still at play.
In addition to cyclical business factors, public equities (i.e. stock markets) are volatile and influenced by a multitude of other factors, such as trading behavior. In other words, stock prices go up and down depending on the news of the day, what analysts are saying, and what other investors are doing. Changing fundamentals also certainly play a role, but it can be difficult for even savvy investors to discern the true signals from the noise.
This is why most successful investors (think Warren Buffet, for example) invest for the long run and disregard the noise of day-to-day market volatility. However, that's easier said than done when the headlines focus on the daily rise and fall of the stock market. And no one likes to watch their investments turn into a loss.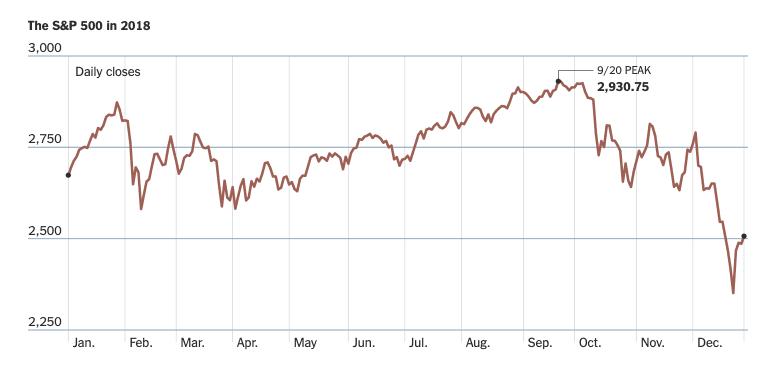 An Alternative to Stocks and Bonds
In contrast, commercial real estate offers a markedly different investing experience. Given its long-term nature (most deals have an average 3-10 year holding periods) and the fact that commercial real estate is not as correlated to the markets, it's far easier for investors to stay the course for the long haul and realize returns at a more optimal time. Investing in commercial real estate now means that you are likely exiting in the next cycle–hopefully, a better time to sell a commercial real estate asset if we do indeed suffer a downturn within the next few years. In addition, while external shocks/factors can certainly affect commercial real estate, an asset's value is driven more by tangibles factors such as physical improvements (e.g. a new lobby= higher value) and submarket appreciation (e.g. overall property values in Dallas increasing). These types of value drivers tend to be easier to predict, compared to predicting which companies will go on to win or lose market share in an industry sector.
As one respondent to our 2019 Investor Survey so succinctly put it, "It's [commercial real estate] a great alternative to the crapshoot known as the stock market."
Average 20-year returns in commercial real estate have slightly outperformed the S&P 500 Index, running at around 9.5%, compared to 8.6%. Residential and diversified real estate investments average 10.6%. Real estate investment trusts (REITS) have historically performed best, with an average annual return of 11.8%.
Hindsight is always 20-20 and the bullish S&P 500 has seen an impressive annualized return of 15% since 2009, but great reward often comes with greater risk moving forward. While there are no guarantees, commercial real estate investments can produce the same, if not better, results than the stock market (our realized returns so far have an average XIRR of 31.7%) and given that commercial real estate returns have low correlation to the S&P 500, it makes for a great vehicle for diversifying away from reliance on hoping that the index continues its record run.