By definition, a hedge is a type of investment that helps protect owners and investors against the decreasing purchase power of the dollar when inflation hits. Real estate investments can act as a hedge in times of above-average inflationary periods, which we are currently in, but not all property types are created equal.
The more levers a property owner has to adjust the net operating income (NOI) generated by the property (and the faster they can pull them), the stronger the hedge it can offer investors against the erosion of real returns when inflation is high.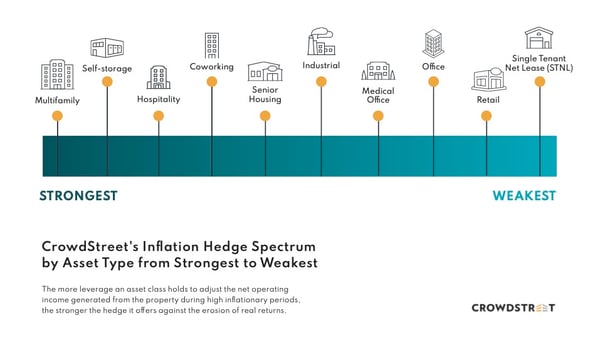 Based on our research of historical trends and the team's industry experience, we believe multifamily properties can provide investors with the strongest hedge against inflation because of three key things:
The relatively short leases (typically 12 months) that constantly roll each month (new tenants can be charged a higher rental rate);
The institutional favorability of this asset class gives it greater liquidity; and
Widely available and inexpensive fixed-rate agency debt made available through Fannie Mae and Freddie Mac.
Freddie Mac tracks the Apartment Investment Market Index (AIMI) which showed record high yearly and quarterly NOI growth in Q3 2021, which, along with lowering mortgage rates, bumped up the AIMI Index. This suggests that investors are increasingly favoring multifamily investment opportunities, especially as it demonstrated its resiliency in the face of COVID-19. As an asset class, multifamily weathered the 2020 recession better than almost any other sector and set a new quarterly absorption record* in Q3 2021.
With supply chain issues causing delays in new construction, we believe that existing multifamily properties in markets like Raleigh-Durham, Atlanta, and Austin stand to benefit the most from increasing rental rates and decreasing vacancies. Property owners in these "hot" markets have the best chance of increasing NOI to keep pace with inflation and protect real returns for investors.
According to CBRE, the multifamily sector is the most established in the U.S. and has been the largest asset class in terms of investment for the last six years. Institutional investors are "doubling and even tripling" their anticipated hold periods for multifamily amid rising inflation. This kind of doubling-down bodes well for existing properties.
Long-term and fixed-rate loans secured by multifamily properties can also help provide stability in inflationary periods. When debt payments are fixed and rents are adjustable, investors can benefit from the increased cash flows. Essentially, the money coming in rises but the debt payments stay the same.
Investing in and holding hard assets like CRE in above-average inflationary periods is generally considered a good strategy, especially if the asset class allows for rapid rent adjustments. Unlike soft assets (like stocks), multifamily owners can quickly adjust rental rates to keep pace with inflation and help protect investor returns.
*CBRE Q3 2021 US Multifamily Figures
Want to learn more about how inflation and commercial real estate are related? Read the full whitepaper from the Office of our CIO.