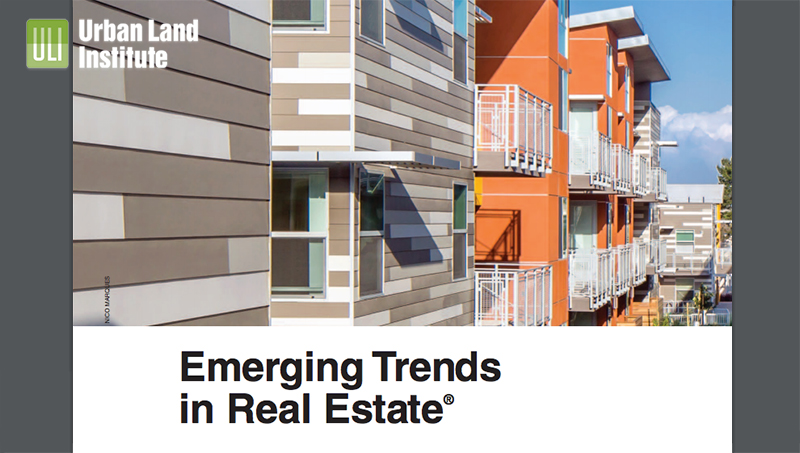 The 2017 edition of Emerging Trends in Real Estate® ("Emerging Trends")  was published on October 26th in conjunction with ULI's Fall Meeting in Dallas, TX, which CrowdStreet participated in as a sponsorIn commercial real estate, the sponsor is an individual or company in charge of finding, acquiring and managing the real estate property on behalf of the partnership. The sponsor is usually expected to invest anywhere from 5-20% of the total required equity capital. They are then responsible for raising the remaining funds and acquiring and managing the investment property's day-to-day... More and panelist.
Emerging Trends is a trends and forecast publication now in its 38th edition, and is one of the most highly regarded and widely read forecast reports in the real estate industry. It provides an outlook on real estate investment and development trends, real estate finance and capital markets, property sectors, metropolitan areas, and other real estate issues throughout the United States and Canada. ULI and PwC researchers personally interview more than 500 individuals and receive survey responses from more than 1,500 individuals, including CrowdStreet, as part of their annual process to place their finger on the pulse of the industry.
In this article, CrowdStreet will provide its thoughts on some of the most pertinent highlights of this year's publication.
Where are we in the current cycle?
According to ULI, the current cycle is 85 months in duration. Given that the national consensus is that are solidly in an expansion cycle, the question on everyone's mind is when does the current expansion tip to oversupply and, ultimately, recession? To help address this question, Emerging Trends makes note of the following:
The 1980's and 1990's saw growth cycles of 92 months and 120 months.

New construction financing has been relatively difficult to obtain in this cycle, keeping oversupply at bay. The graph below demonstrates how new supply has remained relatively muted at a national level.

In addition to financing constraints, labor shortages in the construction industry are slowing the rate of new deliveries, which has helped to prevent overbuilding in some markets.

The perception this time last year of a rising cap rateThe capitalization, or "cap", rate is used in commercial real estate to indicate the rate of return that is expected to be generated on a real estate investment property. The calculation is based on the Net Operating Income the property generates divided by the Purchase Price. Lower cap rates (3-5%) generally point to safer / less risky investments and are... More environment is proving unfounded. Cap rates are looking flat with possible further compression on the horizon.

The current cycle is acting in an unusual manner, which is not surprising given the unusual nature and severity of the previous recession.
The bottom line is that none of the macro indicators that might foretell an impending end to the cycle have yet to appear. Job growth remains reasonable, vacancies are in check, absorption is still occurring across most markets and rental growth is still present, arguably now at more sustainable levels than the breakneck rates of recent years. All of this combines to suggest that, while things can change, there is no discernible data to suggest that the end of the current cycle is upon us. This is what led ULI to describe the current real estate market as a, "Kinder, Gentler Real Estate Cycle".
Post-election, the only move that is causing deal velocity to slow at the moment is a +/- 50bps increase in the 10-year treasury. However, as it pertains to the current real estate cycle, there are a few factors to keep in mind with this move, assuming it is sustained:
Consensus suggests that the move in rates is front running anticipated Fed moves that would be intended to counterbalance the effects of the expansionary practices of lower taxes combined with increased spending of a Trump administration.

Such expansionary practices historically have led to increased inflation rates. Generally speaking, when inflation increases so do rents, which is why real estate is considered a good hedge against inflation.

Rates are still near historic lows. Provided that rates don't skyrocket in the months ahead, then a sustained bump up in rates off of pre-election levels isn't exactly a doom and gloom scenario. To put it into context, the 10-year treasury, as of the publication date, is nearly equivalent to where it was at the beginning of 2016.
CrowdStreet supports the thesis of ULI. While we remain cognizant of the potential of fundamentals to change course, we are still seeing deal flow backed by reasonable assumptions and, generally speaking, are still believers in the near-term market prospects.
Labor shortages
Labor shortages in the construction industry are now a reality in the U.S. and demographic trends tell us this is an issue that will only intensify over the coming years. As of April 2016, there were over 200,000 unfilled job openings in building construction, according to the Bureau of Labor Statistics Job Openings and Labor Turnover Survey (JOLTS).
Such shortages are having two primary effects:
They are reducing the number and delaying the timing of new deliveries nationwide (as noted above).

The delays and lack of supply attributable to these shortages is driving up the cost of new development, which, in turn, pushes developers increasingly towards the luxury end of the market.
The key takeaways here are: 1) look for supply to continue to lag demand in the near term; and 2) lack of affordable housing is already a burning issue nationwide to which the current shortages in the construction industry are only adding fuel. It's a notable enough trend to warrant discussion as the next topic.
CrowdStreet has seen this story play out in multiple markets.  New development and redevelopment projects are struggling to maintain previously forecasted timelines. The silver lining in such situations is that current market rents, almost across the board, are well-above pro forma assumptions. Therefore, we see the opportunity for these types of projects to ultimately flip from underperform to outperform scenarios once each respective product is finally delivered to market.
Housing affordability (or lack thereof)
In many markets across the U.S, a preponderance of middle-income households, those averaging between $31,000 and $87,000 in yearly income—are according to ULI "housing stressed," which means they spend more than a third of their income on housing costs.  With home prices rising at a 5 percent annual rate—more than twice as fast as incomes in recent years—and apartment rents on pace to grow 4.5 percent in 2016, the level of stress experienced by this demographic will likely increase in the near future.
ULI's survey respondents also provide some insight to the intensification of this issue as housing costs and availability were rated by as being "considerably important" issues for real estate in 2017, increasing in importance this year when compared with the "moderate importance" response provided a year ago. As one interviewee put it, "We're not paying enough attention to affordable housing, and I don't mean low-income or government-subsidized. Just regular rents. No new buildings are providing that kind of product."
As developers grapple with adding new supply to our national housing stock, one issue for investors to keep on their radar is inclusionary zoning. Through such zoning, cities can require developers to create below-market-rate rental apartments or for-sale homes in connection with the local approval of a proposed market-rate development project. Proposals to put inclusionary zoning in place or strengthen existing policies are advancing in Atlanta, Baltimore, Detroit, Los Angeles, Nashville, Pittsburgh, Portland, Seattle, and Washington, D.C., among other cities. This may translate into two outcomes: 1) developers with already approved projects may find themselves grandfathered into enviable situations; and 2) those developers who are currently in the midst of gaining approvals for their projects could find themselves with diminished land values and a host of new requirements not previously factored into pro formas. Investors are advised to pay attention as the dialogue ensues.
ULI straddles the fence as to whether a dearth of affordable housing creates opportunities or poses threats in 2017. CrowdStreet's take is that the private sector is paying attention to this trend and is addressing the affordable housing crunch by refurbishing older Class C and Class B multifamily properties to deliver affordable yet livable dwellings to a product starved market. Look for demand in the Class B and C multifamily segments to continue to remain high in the years ahead.
The Suburbs aren't dead
With so much discussion in recent years around the urbanization trends across the country, it can lead investors to believe that our nation's suburbs are future ghost towns and that we're all destined to live in vertically stacked environments within walking distance from one another. Therefore, it was refreshing to see Emerging Trends make note of the continued vibrancy of our suburbs despite the fanfare of the urban movement. Here are a couple of the highlights:
In America's 50 largest (and most urbanized) metropolitan areas, suburbs account for 79 percent of the population, 78 percent of households, 32 percent of land area, and—despite popular and media perception—75 percent of 25 to 35-year-olds.

From 2000 to 2015, suburban areas accounted for 91 percent of population growth and 84 percent of household growth in the top 50 U.S. metro areas.
So, far from being dead, ULI points out that, in the coming decades, our nation's suburbs are, "poised to maintain their relevance and predominance".
Technology and Real Estate
A forward-looking conversation on commercial real estate cannot be had without covering the topic of technological adaptation. One key areas of focus as it pertains to technology and real estate is understanding how the deployment of connected devices across our cities is changing the way real estate is utilized.
The estimate for internet-connected devices hit 10 billion in 2015 and is projected to more than triple to 34 billion by 2020. As Emerging Trends points out, a market's trend toward technological advantage is correlated with superior real estate performance with the key link being increased productivity.
The seven "smartest cities" in the United States are listed as Seattle, San Francisco, Boston, New York, D.C., Portland, and Chicago in a ranking from Co.Exist, an online publication of the magazine Fast Company. Smart cities are defined as those gathering data from devices and sensors embedded in roadways, power grids, buildings, and other assets.
However, just because medium and large cities are making headline for technological adoption doesn't mean that smaller cities are also embracing technology. For example, the Denver suburb of Centennial, has the highest rate of internet connection of any U.S. municipality, at over 96 percent. Cary, North Carolina, in the Research Triangle area, had a similarly high rate.
It is also time to begin contemplating how Augmented Reality ("AR") will shape the future of retail real estate.  If an app such as Pokémon Go could sweep the nation by storm in 2016, there's little doubt that AR will play a substantial role our future from a real estate perspective. Retail centers will likely utilize AR as a means to entice shoppers to visit its locations as "experience" becomes increasingly important.
Forward-looking strategies
"Last mile" distribution – As E-tailers seek to tackle the holy grail of same-day delivery, it will drive demand for in-market distribution to complement the mammoth ex-urban distribution centers that companies such as Amazon have been developing in recent years. Emerging Trends makes an interesting case for the conversion of suburban Class B and C shopping centers into last mile distribution centers. CrowdStreet agrees that such a use may breathe new life into big box vacancies that are rapidly trending towards functional obsolescence. Therefore, keep an eye out for opportunities that address this growing market segment.
Re-thinking the traditional path of growth analysis – CrowdStreet concurs with the sentiments of Emerging Trends that, in many cases, the most sought after urban locations command high prices. This is not to say that such locations no longer provide opportunity, just that they likely no longer offer the opportunisticOpportunistic real estate investments are the most high risk/high reward investment opportunities, requiring major development work. Opportunistic properties tend to need significant rehabilitation or are being built from the ground up. They have the chance to reach the highest rate of return for investors, but they little to no in-place cash flow at the time of acquisition and have the... More upside they once did.
Opportunistic investors can get ahead of the curve by analyzing migration patterns in new ways. Leveraging technology, such as traffic apps and online crime data, can provide investors with up to the minute data on where congestion is occurring within a metro and which neighborhoods are becoming safer.
Utilizing this information in conjunction with solving to affordable proximity to the transportation arterials that are now expensive, can provide insights to the next "up and coming" location. Anyone who has used uberPOOL understands that an efficient and affordable transportation solution now exists for transporting you to a nearby transit hub. And, at less than $10 per day to access such a solution, saving $500 – $1000 per month on rent and living a short drive away rather than walking distance to that transit hub pencils well.
Capital Markets
U.S. commercial transaction volume was down by 10 percent during the second quarter of 2016 on a year-over-year basis, according to Real Capital Analytics (RCA), following a similar dip in the first quarter (18 percent). This was the first time since 2009 that investment transactions declined in two consecutive quarters and only the second time since 2009 there was any decline.
It appears transaction velocity may be moderating to adjust the flow of investment, both in overall quantity and in asset selection, rather than blindly marching to the next bubble. Emerging Trends relays the observation of an interviewee with long institutional investment experience, who calls the level of caution at this phase of the cycle "unprecedented in my lifetime." It seems that the global financial crisis, for all its pain, may actually have been a "teachable moment" for the real estate industry.
Adding to this notion is that one of the features of the real estate debt profile post-crisis has been a determined effort to reduce leverageLeverage is the use of various financial instruments or borrowed capital to purchase and/or increase the potential return of investment. Assume a buyer puts 20% down on a $5M property. Essentially, they paid $1M to own something worth $5M. Assuming the property appreciates at 5% per year, the sponsor's net worth would grow to $5,250,000 in a year. Had they... More. Loan-to-valueLoan-to-value ratio (LTV) is calculated by dividing the loan amount over the appraised property value. Typically, offerings with high LTV ratios are higher risk as the Sponsor will be liable for paying the loan service irrespective of whether the asset is or isn't meeting its performance targets.... More (LTVLoan-to-value ratio (LTV) is calculated by dividing the loan amount over the appraised property value. Typically, offerings with high LTV ratios are higher risk as the Sponsor will be liable for paying the loan service irrespective of whether the asset is or isn't meeting its performance targets.... More) ratios are reduced in commercial mortgages. Loan-to-cost standards require more equity from developers. CrowdStreet has witnessed this phenomena first hand and it is partially attributable for the rise of its business model.
Another item of note on the debt front is the set of risk retention rules that will go into effect on December 24, 2016 for CMBS. Starting on this date, CMBS lenders must retain at least 5% of the credit risk on new issuances for five years. While this number may sound low to the casual observer, it is infinitely higher than the 0% of risk lenders are currently required to retain. This is having major reverberations through the CMBS lending community. When CMBS issuers could immediately securitize and sell 100% off the loan it incentives the moral hazard of pure volume. Now, issuers must begin to contemplate the long-term viability of their loans. This will undoubtedly make CMBS underwriting criteria more stringent in comparison to the last cycle, which also bodes for a more sustainable commercial real estate debt market.
Equity Markets
In cycles past, as expansions ensure, sponsorsIn commercial real estate, the sponsor is an individual or company in charge of finding, acquiring and managing the real estate property on behalf of the partnership. The sponsor is usually expected to invest anywhere from 5-20% of the total required equity capital. They are then responsible for raising the remaining funds and acquiring and managing the investment property's day-to-day... More simply sought to increase leverage to fill their capital stacks. Debt is always cheaper than equity, so if the bank will finance almost the entire project, who can blame them for leveraging projects to the max? However, the practice of increasing leverage as expansions continue only serves to virtually guarantee that the risk of equity loss is at its pinnacle at the same time the cycle tips to oversupply and then recession.
However, this time around, lending sources are not ratcheting leverage ratios to the same levels. As Emerging Trends points out, "As leverage has been deemphasized in the post-financial-crisis environment, obviously the weight accorded to equity increases."
With lenders seeking to manage LTVs at a lower level, as a matter of present policy and for an indeterminately long period ahead, equity investors have to take sharper pencils to their own risk/reward calculations.
The preferred equity investors provide one solution to that conundrum, since they earn better yields for providing the additional capital needed to keep the overall debt/equity ratio at a level that makes financing viable.
Sponsors must now turn to additional sources of equity and online capital formation is proving to be a newfound viable channel. Lower levels of leverage and, in turn, greater levels of equity are a more sustainable structure, which provides one more shred of evidence that the market is heeding a lesson or two from the last recession.
Private Equity
Emerging Trends survey respondents see private equity as a solid source of funding that will stay at the same levels for 2017 but rank private equity investments at the top of the list for prospective performance in the year ahead.
Market Highlights – 18-hour cities reign
Rather than delve into a market-by-market analysis (we recommend reading the full report to gain that level of detailed analysis) CrowdStreet will comment on the overarching themes of this section:
Look for strategy and quality of deal over location: as Emerging Trend notes, "One thing is coming through loud and clear from the Emerging Trends interviews: you can find opportunities in any of the markets in this year's survey, whether the market is number-one Austin or number-78 Buffalo. It all comes down to your strategy, risk tolerance, return requirements, and access to deals."
18-hour cities come out on top: The term "18-hour city" refers to a secondary real estate market that offer services, amenities and job opportunities on a similar scale to that of the big six primary markets but does not operate on a 24-hour basis. These cities typically feature a thriving urban coreCore commercial real estate investments are the least risky offering. They are often fully leased to quality tenets, have stabilized returns and require little to no major renovations. These properties are often in highly desirable locations in major markets and have long term leases in place with high credit tenants. These buildings are well-kept and require little to no improvements... More that has undergone substantial redevelopment over the last decade, a solid public transportation infrastructure, a strong economy and moderately priced housing in comparison to its larger primary market competitors.
The top four markets and seven out of the top 10 markets are up and coming secondary markets also known as 18-hour cities, which include:
Austin, TX

Dallas, TX

Portland, OR

Seattle, WA

Nashville, TN

Raleigh / Durham, NC

Charlotte, NC
These seven markets are experiencing (some for the most part and some across the board) population growth with outsized shares of Millenial growth, Gross Metropolitan Product ("GMP") growth and job growth rates that outpace the national average:
| | | | | |
| --- | --- | --- | --- | --- |
| Market | 2016–2017 % population change | 5-year Millenial growth | GMP per capita 5-year projected growth | 2016–2017 % employment change |
| United States | 0.8% | 2.6% | 1.4% | 1.5% |
| Austin, TX | 2.9% | 18.0% | 1.7% | 2.3% |
| Dallas, TX | 2.0% | 12.2% | 1.1% | 2.6% |
| Portland, OR | 1.1% | 10.5% | 2.6% | 1.7% |
| Seattle, WA | 1.4% | 13.9% | 1.3% | 1.8% |
| Nashville, TN | 1.4% | 3.7% | 0.9% | 2.2% |
| Raleigh / Durham, NC | 2.5% | 14.6% | 1.0% | 4.1% |
| Charlotte, NC | 2.2% | 14.8% | 2.1% | 1.9% |
In addition, all offer a quality of life that is deemed attractive relative to the exorbitant cost of living and congestion that is increasingly defining the top six primary markets.
"Next Tier" cities: Emerging Trends notes continued interest amongst interviewees in the "next tier," or the next five to seven markets that would be next in line to be added to the existing six core markets of San Francisco, Los Angeles, Chicago, Boston, New York and Washington D.C. These additional markets have always been popular with domestic investors, but are also seeing rising interest from international investors. General consensus is that Next Tier cities include:
Seattle, WA

Dallas, TX

Houston, TX

Atlanta, GA

Miami, FL

Philadelphia, PA

Phoenix, AZ
While these markets have been popular with U.S-based investors for years, they are now seeing additional interest from foreign investors as well.
Looking Ahead
With a change of political guard, 2017 will undoubtedly bring changes to our markets, which the media and markets are scrambling to decipher and, perhaps, over analyzing at the moment.
CrowdStreet takes a more pragmatic approach. Across the U.S. we see the following:
Growing markets that are underserved from a housing perspective, particularly when it comes to anything that approximates affordable housing.

Companies growing and expanding their use of office space.

Demand for storing and moving goods in practically all metros with medium to large populations.

Secondary and tertiary markets (even post-election) are still offering attractive spreads between cap rates and borrowing costs that enable strong going-in cash-on-cash yields.
Acknowledging that we are beyond a point in the current cycle where we can assume that a rising tide will lift all boats, the best acquisition decisions in 2017 will likely be made by operators who utilize their expertise and experience to discern value and pair it with continued demand in the subject acquisition's submarket and asset class.
By partnering with operators with a nose for identifying value and paying attention to the emerging trends that can provide wind to the backs of certain investment theses, CrowdStreet is optimistic that 2017 will continue to provide compelling commercial real estate investment opportunities.