Easily invest in multiple deals in one fund
One of the simplest ways to build a portfolio of multiple private real estate deals is by investing in a fund. Instead of manually researching and selecting individual properties on your own, funds are managed by professionals that do the work for you.
CrowdStreet gives you access to multiple types of funds:
CrowdStreet funds are constructed and managed by our in-house team of real estate professionals. They come in various flavors and focus on providing you with access to multiple properties based on a pre-defined investment strategy. These strategies can range from targeting investments in a specific region or property type, to focusing on different investment themes, sponsors, sectors, and multiple regions.
With CrowdStreet funds, you benefit from our relationships with hundreds of sponsors across the U.S., which allows us to add deals to the funds that are not always available on the Marketplace.
Single-sponsor funds are led by one real estate firm (or sponsor) and typically focus on the firm's specialty, such as a particular region or specific property type. Investing in these funds means you'll get to leverage that sponsor's expertise as they add properties to the fund over time.
All sponsor-backed funds undergo the same, objective review process as any individual deal on the Marketplace.
Why invest in a real estate fund?
Faster portfolio construction
Spend less time and effort building your portfolio. Funds can provide exposure to multiple assets, and sometimes even multiple sponsors, with a single investment. It's a simpler way to build a portfolio of private commercial real estate while also diversifying your existing investment portfolio with an asset that has historically only been available to the most sophisticated investors.
Strategic approach
Fund managers don't typically find all of their deals ahead of time, so committed capital can be used strategically to invest in great opportunities as they come up, which can be an especially powerful tool in turbulent markets.
Lower per-deal investment
Most single-property deals require a $25,000 minimum investment. By investing in a fund, you invest in multiple projects, potentially significantly lowering your average investment per property.
Easily Invest in a Portfolio of Private Real Estate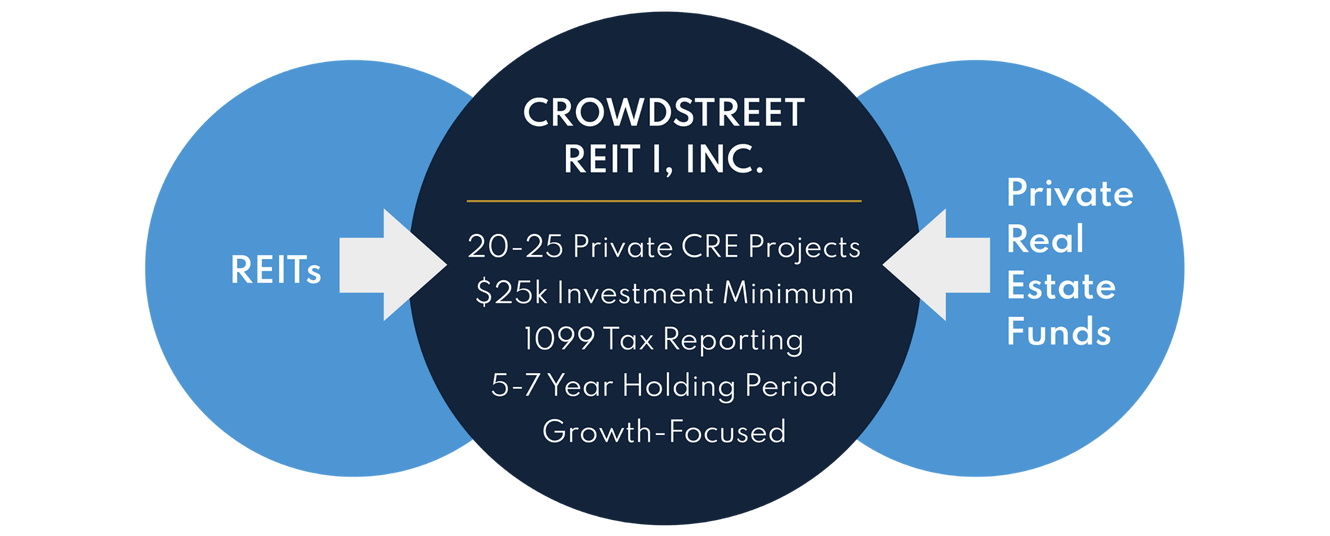 Designed for growth-oriented investors, the CrowdStreet REIT I, Inc. (C-REIT) provides access to a portfolio of multiple private commercial real estate projects. Built of some of CrowdStreet's most sought-after deals, C-REIT investors get direct access to 20-25 projects selected from a broad range of sponsors, sectors, and geographies. Plus, the simple 1099 tax reporting structure helps make tax season easier. With a lower investment minimum and expenses than traditional private funds, C-REIT combines the accessibility of public REITs with the unique benefits of private real estate funds.
Check out some of the funds currently on the Marketplace
Investing in commercial real estate entails substantive risk. You should not invest unless you can sustain the risk of loss of capital, including the risk of total loss of capital. All investors should consider their individual factors in consultation with a professional advisor of their choosing when deciding if an investment is appropriate. An investment in a private placement is highly speculative and involves a high degree of risk, including the risk of loss of the entire investment. Private placements are illiquid investments and are intended for investors who do not need a liquid investment.