Invest in something real.
A new way to invest in private equity real estate.
Why CrowdStreet?
Named Best Overall Real Estate Crowdfunding Site by Investopedia for 2021 and 2022, CrowdStreet is the nation's largest online private equity real estate investing platform*. Register today to get direct access to some of the most sought-after, institutional-quality real estate investment opportunities across the U.S.

Create your account today to easily review, compare, and choose the individual deals that meet your investment criteria. You can also invest in one of our thematic managed funds or work with our team of investment professionals, leveraging our advisory services to help you build a customized real estate portfolio.
As of April 12, 2022 , tens of thousands of investors have diversified their portfolios outside of stocks and bonds with private equity real estate using CrowdStreet. With $3.16 billion invested across 629 deals, our investor community has earned more than $591 million in distributions.
Easily Invest in a Portfolio of Private Real Estate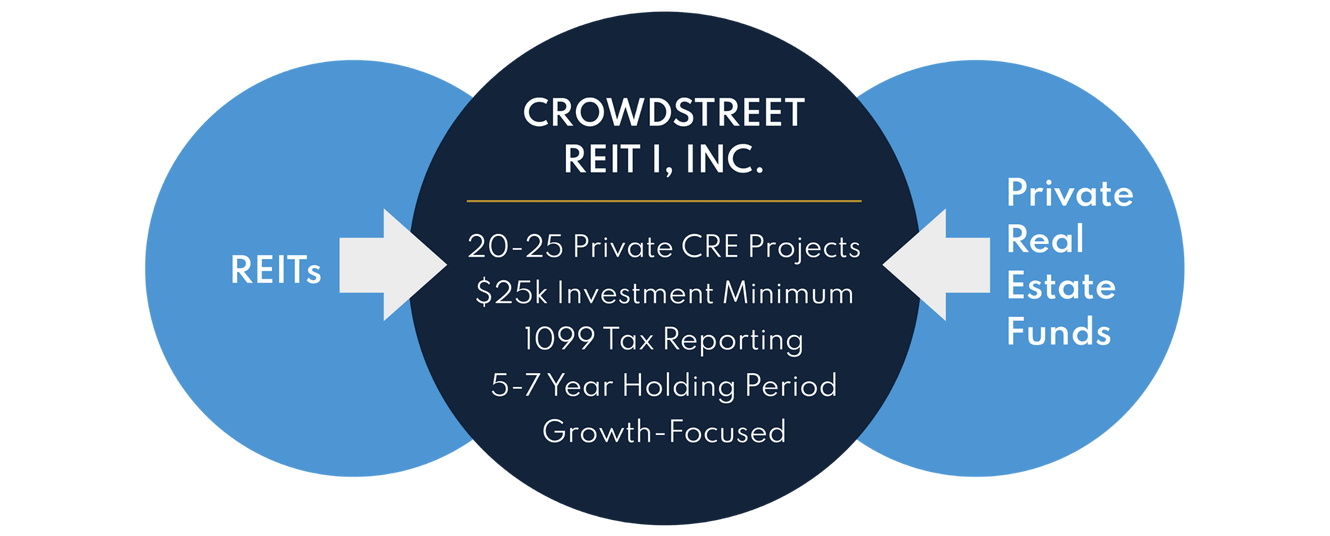 Designed for growth-oriented investors, the CrowdStreet REIT I, Inc. (C-REIT) provides access to a portfolio of multiple private commercial real estate projects. Built of some of CrowdStreet's most sought-after deals, C-REIT investors get direct access to 20-25 institutional-quality real estate projects selected from a broad range of sponsors, sectors, and geographies. Plus, the simple 1099 tax reporting structure helps make tax season easier. With a lower investment minimum and expenses than traditional private funds, C-REIT combines the accessibility of public REITs with the unique benefits of private real estate funds.
CrowdStreet Marketplace Performance
Since launching in 2014, the CrowdStreet Marketplace has closed 629 commercial real estate investment offerings. As of April 12, 2022 , 105 of those offerings have been fully realized.
Deals
Total number of deals launched on the CrowdStreet Marketplace
Capital Raised
Total funds invested through the CrowdStreet Marketplace
Investor Distributions
Total funds returned to CrowdStreet Marketplace investors to date
Total Capitalization
Total amount of debt and equity funding for all projects on the CrowdStreet Marketplace
Choose How You Want to Invest
REAL ESTATE FUNDS
A fast, simple, and easy way to diversify your commercial real estate portfolio with just one investment.
INDIVIDUAL DEALS
You're in control. Invest directly in individual commercial real estate deals on the Marketplace.
TAILORED PORTFOLIOS
Leverage the power of the CrowdStreet platform to get an investment strategy tailored to your individual financial objectives.
Current Investment Opportunities
Compare and review commercial real estate projects to find the right direct investment opportunity for you. View a deal's financial documents, register for a live webinar with the sponsor behind the deal, submit your investment offers, and more–all online.

We're discussing how the current market volatility is impacting the commercial real estate market. Hear from investors, sponsors, and industry leaders to get the information and insights you need right now. Watch all of our StreetBeats videos today.
CROWDSTREET IN THE NEWS
March 24, 2022
How does inflation impact commercial real estate
In this excerpt from the latest whitepaper from our Office of the CIO, we talk about the ways inflation can impact commercial real estate.
April 4, 2021
What real estate asset class can provide the strongest hedge against inflation?
In this excerpt from the latest whitepaper from our Office of the CIO, we talk about which real estate asset class can provide the strongest hedge against inflation.