The REIT Reinvented.
An easy new way to invest in private commercial real estate.
CrowdStreet REIT I, Inc. (C-REIT) makes building a commercial real estate portfolio easy with just one investment.
Multiple developers. Multiple asset classes. Multiple markets. One investment.
Private CRE investments can help diversify your overall portfolio, but it's not always easy to know where to start. C-REIT gives investors access to investment opportunities from multiple developers across multiple asset classes from coast to coast, all with a single investment.
C-REIT makes equity investments in private CRE projects that we believe have the potential to benefit from demographic and social trends that can be long-term growth drivers. These investments include a range of asset classes, including life sciences, multifamily, industrial, and more.
Housing Shortage
Increasing demand for build-to-rent and multifamily properties
Migration to the Sunbelt
Population and job growth driving demand in multiple asset classes
E-commerce Acceleration
Driving demand for last-mile industrial properties
Aging Demographics
Creating opportunities in life sciences and other healthcare properties
CrowdStreet by the numbers
Over 777 deals funded
$4.16 billion invested
Based on internal CrowdStreet data as of July 6, 2023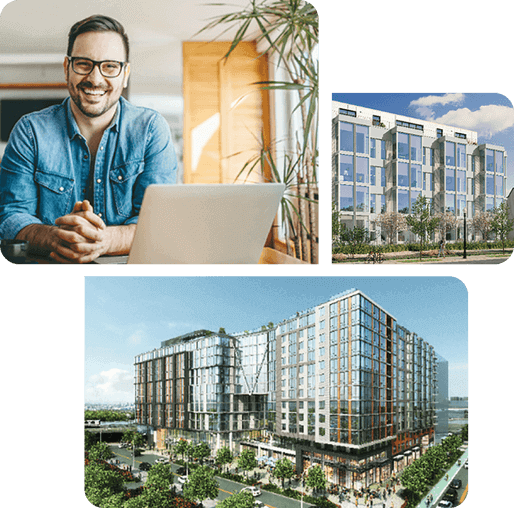 CrowdStreet has reinvented access to private commercial real estate for individual investors. That same innovation powers C-REIT, with deals sourced from the CrowdStreet Marketplace.
Deals Reviewed for the Marketplace
Investment opportunities submitted to the CrowdStreet Marketplace undergo our rigorous objective review process.

Selected for the Marketplace
Only a portion of those reviewed meets our standards to merit inclusion on the CrowdStreet Marketplace.
Selected for C-REIT
Approved Marketplace offerings must pass an additional review from C-REIT's Portfolio Management team to be selected for the fund.
C-REIT is professionally managed by a dedicated portfolio management team with an average 30+ years of experience.

Sheldon Chang
President
CrowdStreet Advisors, LLC



Ian Formigle
CIO
CrowdStreet Advisors, LLC



Thomas McDonald
Director, Investment Product Development & Portfolio Management
CrowdStreet Advisors, LLC

Chip George
Portfolio Manager
CrowdStreet, Inc.

Jack Chandler
Portfolio Manager
CrowdStreet, Inc.
Invest in a new kind of REIT powered by CrowdStreet, one of the nation's largest online real estate investing platforms.
1
To get started, create an account on the CrowdStreet Marketplace.
2
Access detailed offering information, complete the subscription process and connect with our investor relations support team.
3
C-REIT investors receive regular performance updates and ongoing investor relations support and reporting.
Investing in commercial real estate entails substantive risk. You should not invest unless you can sustain the risk of loss of capital, including the risk of total loss of capital. All investors should consider their individual factors in consultation with a professional advisor of their choosing when deciding if an investment is appropriate. Private placements are illiquid investments and are intended for investors who do not need a liquid investment.