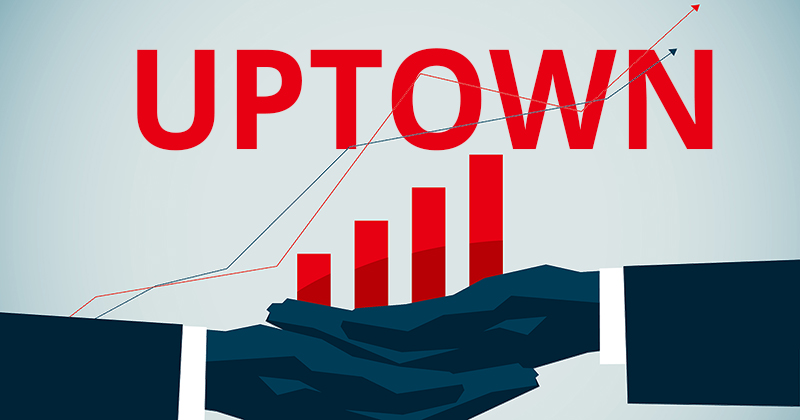 Oakland's Uptown neighborhood is in the midst of an major urban renaissance. Capitalizing on an amazing Bay Area location with mid-20th century roots as a shopping and entertainment destination, Uptown Oakland is rapidly refashioning itself into a vibrant "live, work, play" environment replete with great food, jobs, and an arts & culture scene.  This renaissance has positioned it in 2016 as, arguably, the hottest neighborhood in the entire Bay Area. From a real estate perspective, this transformation – along with a growing population of Millennials – has landed Uptown firmly on the radar of office users and real estate investors.
Uptown Oakland has always possessed a number of strategic advantages, including great views of San Francisco, better weather than its more famous neighbor, proximity to a viable airport and the fact that it sits at the hub of the Bay Area Rapid Transit or "BART" system. However, despite its underlying fundamentals, this submarket, along with other Oakland submarkets, has historically failed to live up to its potential due to issues ranging from concerns over crime to lackluster city management. However, with a number of recent changes, some thoughtfully planned and some due to market forces, Uptown Oakland finally seems to have finally crossed the tipping point on its path to reaching the potential that locals always felt was possible.
One of the catalysts driving change in Uptown was former Oakland Mayor Jerry Brown's 10K Housing Initiative, an urban planning doctrine that was intent on attracting 10,000 new residents to the urban core stretching from Uptown down though Jack London Square. The initiative took advantage of Uptown's proximity to public transportation, including BART, to create a transit-oriented, pedestrian-friendly neighborhood with a variety of housing options. It was a long time in the making (dating back to 1998) but the 10K Housing Initiative can be traced back as the foundation of an urban movement that now accounts for upwards of 18,000 residents.
Partially due to the groundwork laid by the 10K Housing Initiative, in 2014, the American Planning Association named Uptown as the number one "great neighborhoods" in the country and Oakland Realtors recognized it as one of the city's fastest growing neighborhoods with a variety of housing options that ranged from new upscale condos to apartments in renovated historic buildings. Businesses that have made a point to locate closer to that talent base have taken notice of that success.
As for the office market, stratospheric rents in nearby San Francisco and the SF Peninsula have funneled demand into Oakland as companies seek less-expensive yet hip alternatives. As a result, Uptown Oakland is experiencing strong demand from office tenants. Combine surging office demand with limited new construction and now unsurprisingly, Oakland's office market is on fire.
According to Collier's 2016 Q2 Oakland Office Report & Forecast, rents across all asset classes are up 13.3% over the previous two quarters. However, the real story is in Class B/C, where asking rents are up 35.3%. Over the course of 2016, Oakland's downtown office vacancy rate has dropped to an extremely tight blended rate of 3.1% with Class A Class vacancy and Class B/C vacancy 2.0% and 5.3% respectively. These are all substantially below the national average that is hovering at about 13%, according to CBRE.
Local experts have opined that the rapid ascent of Uptown's Class B/C asking rents is partially attributable to tenant demand that is predominantly seeking a creative, bicycle friendly office environment (complete with lockers and showers) and that these factors outweigh whether it comes packaged in a shiny glass and metal high rise or a brick or stucco low-rise exterior. In some cases, smaller Class B buildings are actually preferable to creative users since they tend to be more dog and bicycle friendly.
Perhaps more than any other single data, point, Uber's $123 million purchase and redevelopment of the former Sears at 20th Street and Broadway, exemplifies the transformation of the Uptown submarket. In 2017, Uber will join longtime residents Pandora and Ask.com in a growing club of Oakland-based tech companies. Its new headquarters, which has been rebranded Uptown Station, is a 380,000 square foot transit-oriented mixed-use building that will finally give Oakland a state of the art tech headquarters that rivals any property in San Francisco.
CrowdStreet recognized the momentum of the Uptown Oakland submarket and, as a result, welcomed the opportunity to feature an Uptown Oakland creative office repositioning offering on the CrowdStreet Marketplace in February 2015. San Francisco-based sponsor Urban Green Investments acquired an existing office property at 1924 Franklin and is now well into its projected three-year investment period that will transform the existing 24,000 sf building into creative office space that appeals to the growing tech market.
Urban Green was able to leverage good timing to acquire the property at a below market purchase price and begin work immediately to renovate the space. For example, installation of a staircase between the second and third floor is now complete, installation of a new HVAC system for the second through fourth floors is underway as well as installation of new fire sprinklers throughout the building. "It is our goal to complete the base building work in late 2016 and lease the property by April 2017, and we are pleased with the work we have accomplished thus far," says Barrett Elmer, manager of finance & acquisitions at Urban Green.
Urban Green's 1924 Franklin investment aims to capitalize on the momentum in the submarket to reposition the property to creative users and capture huge upside rent potential. "Oakland is undergoing a renaissance that is being fueled by technology and biotech companies," says Jasmine Nazari, head of investor relations at Urban Green. "The supply of real estate in Oakland hasn't undergone the same renaissance, which has led to quite an opportunistic situation for developers."
CrowdStreet is continually on the lookout for compelling investment markets such as is the case with Uptown Oakland. CrowdStreet strives to provide a wide variety of offerings on the CrowdStreet Marketplace that span different geographic markets and property types to help build portfolio diversity and provides individual investors, institutional investors and family offices the opportunity to directly invest in institutional-quality commercial real estate with as little as $10,000.  To register for a free investor account please click JOIN NOW.