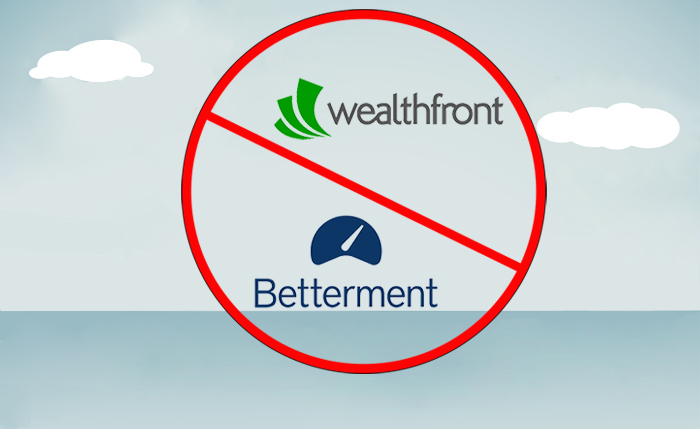 Platforms such as Wealthfront and Betterment are bringing the the same advanced investment portfolio strategy to the masses (at least a roboticized version of it) that is employed by some of the world's most sophisticated investors (see Invest like Harvard: the benefits of direct real estate investing). By harnessing powerful technology to a rich user experience, it's easy to understand how these two companies, in just a few short years, have amassed $2.6 billion and over $3 billion in assets under management respectively.
In the past, individual investors needed a sizable portfolio to catch the eye – and personal attention – of an asset management team willing to craft an investment portfolio tailored to their own unique requirements. Smaller investors that didn't measure up often found themselves shut out of the managed portfolio approach. Rather, they were left to fend for themselves to choose amongst a sea of mutual funds and stocks through online brokerages such as E*TRADE or TD Ameritrade. Tech-fueled platforms have disrupted this space by giving retail investors the ability to allocate funds across multiple asset classes and even rebalance portfolios in conjunction with the managed portfolio approach. According to Betterment, this methodology can deliver a 4.30% higher annual return than a typical DIY investor.
Kudos to Wealthfront and Betterment for leveraging technology to bring the managed investment portfolio approach and application of modern portfolio theory to retail investors. However, if you think that these platforms offer a one-stop-shop for investing, you are mistaken. What investors are missing out on when they utilize these platforms is the opportunity to add direct real estate investments to the mix. Modern Portfolio Theory advises a target range of 10% to 20% in hard real estate assets for well-diversified portfolios. Wealthfront and Betterment may lay claims to real estate exposure through Vanguard's VNQ but this is a REITModeled after mutual funds, a REIT (real estate investment trust) is a company that owns, operates or finances income-producing real estate. They allow individual investors to buy shares in commercial real estate portfolios.... More ETF and traditional REIT's are not direct real estate investments. If you invest in a traditional REIT you are purchasing shares of the landlord not the physical asset, which at best, is a derivative to direct real estate that carries with it correlation to equities markets.  This is a topic we discuss in greater detail in the follow up article – The Differences between Direct and Indirect Real Estate Investing.
Historical results show that diversification into direct real estate investments to be effective in posting above-market returns in both up and down market cycles. One notable example of those alpha results is Harvard University's fiscal 2015 performance for its $37.6 billion endowment. Harvard's real estate investments generated the highest returns in its entire portfolio last year at 19.4%. More specifically, the direct real estate investment program generated even higher returns of 35.5%.
Investors must look elsewhere to find real estate investments to layer on top of robo advisors and they can do that easily via online real estate investing. Real estate crowdfunding has opened up direct real estate investing to the masses by giving investors access to private offerings at a significantly lower buy-in cost. Platforms such as the CrowdStreet Marketplace leverageLeverage is the use of various financial instruments or borrowed capital to purchase and/or increase the potential return of investment. Assume a buyer puts 20% down on a $5M property. Essentially, they paid $1M to own something worth $5M. Assuming the property appreciates at 5% per year, the sponsor's net worth would grow to $5,250,000 in a year. Had they... More technology in much the same way as Wealthfront and Betterment to bring institutional-quality investment opportunities with best-in-class sponsorsIn commercial real estate, the sponsor is an individual or company in charge of finding, acquiring and managing the real estate property on behalf of the partnership. The sponsor is usually expected to invest anywhere from 5-20% of the total required equity capital. They are then responsible for raising the remaining funds and acquiring and managing the investment property's day-to-day... More directly to investors.
Traditionally, to the extent that individual investors participated in direct real estate investment, it has been through exclusive private partnerships. The offline mode of direct real estate investing has highly limited visibility and requires sizable capital commitments to get a seat at the table. For example, most partnerships require a minimum buy-in amount of $100,000 or greater.
The CrowdStreet Marketplace allows investors to access direct real estate investment opportunities at investment amounts as low as $25,000. These new lower minimums allow investors to split up their investment dollars across more investment opportunities to create greater diversification and, according to Modern Portfolio Theory, move closer to the efficient frontier.
For example, instead of placing $100,000 into one deal, an investor can spread that risk out into five or 10 different investments. In that regard, the CrowdStreet Marketplace helps investors build a direct real estate investment portfolio in much the same way they use Wealthfront and Betterment to create their online investment portfolio in stocks and bonds. The CrowdStreet Marketplace gives investors transparent information on a variety of private real estate offerings across the country, as well as provides tools to help investors track performance and manage their real estate asset allocations.
While allocating capital to a solution such as Wealthfront or Betterment is a great starting point, think through the return enhancing investment options available to you, such as direct real estate, and build a truly diversified portfolio – lest you risk becoming the "robo client" of the robo advisor.
The CrowdStreet Marketplace makes direct commercial real estate easily accessible to accredited investors. The platform gives investors the opportunity to diversify their portfolio by providing transparent information on a variety of commercial real estate investment opportunities across the country, as well as providing tools to help investors track performance and manage their growing real estate investment portfolios.
CrowdStreet is unique in that it only lists institutional-quality commercial real estate investment opportunities and never charges fees for investors to join or invest.
Getting Started With CRE Investing Has Never Been Easier