By 2020, approximately
43 million households
were renters, part of a long-term upward swing that started in 1975. In fact, multifamily housing accounts for
almost 15%
of the housing stock in the U.S.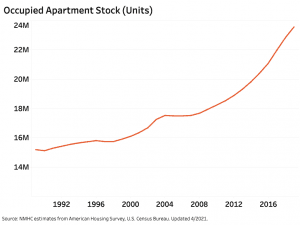 At the same time, we've seen a downward trend in residential vacancy rates across the country. The
vacancy rate
has declined 39.6% since 2010 (when vacancy hit an all-time high) and currently, 6.4% of rental units in the U.S. are vacant. Not all vacancies are created equally, however. As the COVID-19 pandemic unfolded, we witnessed a noticeable shift in renter behavior as people migrated from highly populated urban centers to the suburbs in search of larger units and less densely populated multifamily communities. Overall vacancy rates for suburban multifamily
declined
, with a 6% national vacancy in Q3 2020, while downtown multifamily vacancy
increased
to around 9%.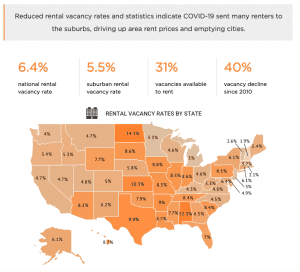 This high demand for multifamily properties may also be related to the unaffordability of homeownership, especially for millennials. Nearly
70% of millennials
say they cannot afford a house due to rising prices. This is backed by a study by the Federal Reserve Bank of St. Louis Center for Household Financial Stability, which found that millennials have almost 35% less wealth than earlier generations at the same ages.
But people need to live somewhere and if they can't afford to buy a house, the only option is to rent. In the classic supply-demand relationship, limited supply leads to an increase in rents. According to
Yardi Matrix's Multifamily National Report
, multifamily rents rose by 1.6% year over year in April 2021, the largest YOY rent growth the market has seen since the start of the COVID-19 pandemic.
How else did COVID-19 impact the multifamily sector?
At the beginning of the pandemic, as entire sectors of the economy shut down overnight and job losses mounted at an unprecedented rate, there were understandable concerns about the multifamily sector. If renters were unable to pay their rent, property owners might, in turn, be unable to pay their mortgages. Government intervention helped prop up the multifamily sector by providing significant fiscal and monetary stimulus, as well as by implementing eviction moratoriums to protect renters. Consequently, rent collections never dropped below 93% in any month in 2020 (as reported by the
National Multifamily Housing Council
), with final collection rates below, but still close, to 2019.
In the end, multifamily handled the 2020 recession better than most property sectors aside from industrial.
Where should investors be looking for opportunities?
For 2021, the overall outlook for multifamily is positive. With favorable target tenant demographics, all-time low interest rates, and a spike in single-family values that are pricing out many would-be homeowners (despite the low interest rate environment),
CBRE forecasted
a "return to pre-COVID vacancy levels and a 6% increase in net effective rents next year, with a full market recovery occurring in early 2022." The firm has speculated that rising multifamily demand will be also driven by "unbundling," with renters moving out of their parents' homes as new job opportunities provide the flexibility to work remotely and live where they want.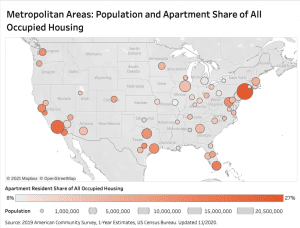 With
30+% of the population renting
, many of CrowdStreet's top 25 multifamily markets already have a significant renter presence. Cities such as Raleigh-Durham, Austin, Nashville, Atlanta, Charlotte, and Phoenix continue to stand out as they have favorable business climates, educated workforces, some level of affordability, and population growth, all of which serve to drive demand for multifamily properties.
Here is our full list:
Raleigh-Durham

Austin

Charlotte

Salt Lake City

Phoenix

Atlanta

Dallas-Fort Worth

Orlando

Nashville

Tampa-St. Petersburg

Boise

Washington D.C.

San Antonio

Boston

Seattle

Indianapolis

Denver

Palm Beach

Colorado Springs

Sacramento

Fort Lauderdale

Columbus

Jacksonville

Miami

San Jose
Download our full
Best Places to Invest
report to learn more about where we see opportunity in 2021.
This article was written by an employee of CrowdStreet, Inc. ("CrowdStreet") and has been prepared solely for informational purposes. The information contained herein or presented herewith is not a recommendation of, or solicitation for, the subscription, purchase or sale of any security or offering, including but not limited to any offering which may invest in the geographic area(s) or asset type(s) mentioned herein, whether or not such offering is posted on the CrowdStreet Marketplace. Though CrowdStreet believes the information contained and compiled herein has been obtained from sources believed to be reliable, CrowdStreet makes no guarantee, warranty or representation about it. Any projections, opinions, assumptions or estimates used are for example only and do not represent the current or future performance of the subject thereof. All projections, forecasts, and estimates of returns or future performance, and other "forward-looking" information not purely historical in nature are based on assumptions, which are unlikely to be consistent with, and may differ materially from, actual events or conditions. Such forward-looking information only illustrates hypothetical results under certain assumptions.
CrowdStreet is not a registered broker-dealer or investment adviser. Nothing herein should be construed as an offer, recommendation, or solicitation to buy or sell any security or investment product issued by CrowdStreet or otherwise. This article is not intended to be relied upon as advice to investors or potential investors and does not take into account the investment objectives, financial situation or needs of any investor. All investing involves risk, including the possible loss of money you invest, and past performance does not guarantee future performance. All investors should consider such factors in consultation with a professional advisor of their choosing when deciding if an investment is appropriate.