All real estate is local and local demand drives local supply. When it comes to evaluating the long-term success of multifamily development investments, understanding population migration as compared to the existing housing supply is key.
People Are On The Move
Early on in the pandemic, Fortune reported that Americans living in urban areas were twice as likely to move out compared to those living in rural or suburban areas, driven in part for a desire for more space (and at a more affordable rate). Upwork reported that between 14 and 23 million Americans planned to relocate due to remote work opportunities, and more than half of them are moving more than two hours away from their current location. Driven by a shifting economy, the rise in remote work opportunities for office workers, and the desire to live in less densely populated areas, Pew Research found that more than one in five Americans have either moved during the pandemic or know someone who did. In their 2021 Strategic Global Real Estate Outlook report, Nuveen outlined how COVID-19 has accelerated population migration, in particular to metros in the Sunbelt.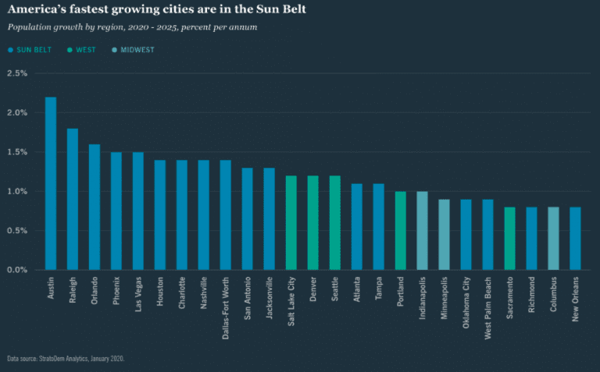 Given that population growth was a huge factor when ranking our top 20 cities in our Best Places to Invest report, it's no surprise that Sunbelt cities such as Raleigh-Durham, Austin, Nashville, Atlanta, and Charlotte ranked well.
Is There Enough Room For New Renters?
When it comes to supply, while the existing pipeline of new multifamily units remained strong in Q3 2020 with over 110,000 units delivered and another 580,000 units under construction, fewer than 300 new projects broke ground, the lowest velocity since 2012.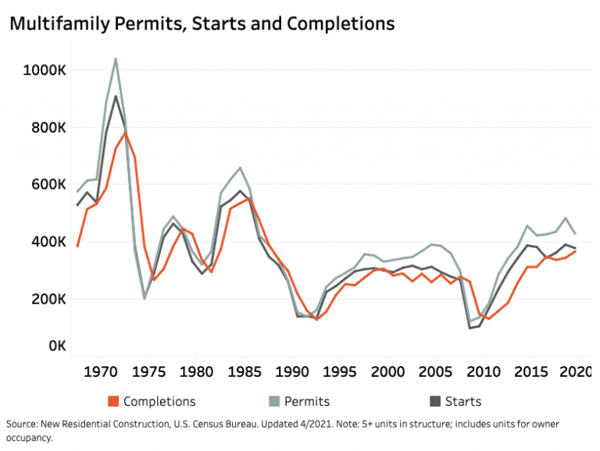 Heading into 2020, apartment vacancy rates were at the lowest they've been in years. Renter demand has been driving the price per square foot up since 2010, and although the national multifamily vacancy rate is expected to peak in 2021 at around 6.5%, the pace of absorption is "...expected to remain sluggish due to the increased number of new units expected to deliver over the next 12 months."
To put it simply, there are more renters than there are apartments. And given it can take several years for new construction to be completed, multifamily development projects hitting the market in the next few years will likely lease up quickly. As reported in our Investment Thesis, CrowdStreet likes the prospects of ground-up multifamily development projects in key markets, especially those projects that will deliver late in 2021 or 2022. Fresh entitlements for new developments were muted over the course of 2020, meaning fewer competitors in 2022–2023.
Our Top Markets for Multifamily Development Investing
When ranking our top multifamily development markets, CrowdStreet prioritized markets that have demonstrated above-average rates for both population and job growth, with the expectation those trends will continue. We also looked for metros that presented at least moderate barriers to entry and which current demand supports both densification and the arrival of new housing supply. These are our 10 favorite cities specifically for multifamily development in 2021.
Austin

Nashville

Boise

Raleigh-Durham

Phoenix

Salt Lake City

Denver

Dallas-Fort Worth

Bozeman

Washington D.C.
These markets are a blend of growing secondary markets, markets that are smaller but transitioning towards institutional markets with strong underlying fundamentals, primary markets we see bouncing back strong post-vaccine, and "work from anywhere" beneficiaries. Discover all our favorite markets for 2021 in our Best Places to Invest report.
This article was written by an employee of CrowdStreet, Inc. ("CrowdStreet") and has been prepared solely for informational purposes. The information contained herein or presented herewith is not a recommendation of, or solicitation for, the subscription, purchase or sale of any security or offering, including but not limited to any offering which may invest in the geographic area(s) or asset type(s) mentioned herein, whether or not such offering is posted on the CrowdStreet Marketplace. Though CrowdStreet believes the information contained and compiled herein has been obtained from sources believed to be reliable, CrowdStreet makes no guarantee, warranty or representation about it. Any projections, opinions, assumptions or estimates used are for example only and do not represent the current or future performance of the subject thereof. All projections, forecasts, and estimates of returns or future performance, and other "forward-looking" information not purely historical in nature are based on assumptions, which are unlikely to be consistent with, and may differ materially from, actual events or conditions. Such forward-looking information only illustrates hypothetical results under certain assumptions. CrowdStreet is not a registered broker-dealer or investment adviser. Nothing herein should be construed as an offer, recommendation, or solicitation to buy or sell any security or investment product issued by CrowdStreet or otherwise. This article is not intended to be relied upon as advice to investors or potential investors and does not take into account the investment objectives, financial situation or needs of any investor. All investing involves risk, including the possible loss of money you invest, and past performance does not guarantee future performance. All investors should consider such factors in consultation with a professional advisor of their choosing when deciding if an investment is appropriate.