We aren't getting any younger, but we are living longer than ever before. According to Stanford, expected human life spans are increasing by three years every 25 years. To put that into perspective–every human, on average, could live six years longer than their grandparents.
Right now, 16% of the U.S. is 65 years and older and this cohort needs medical services seven times annually, representing 36% of total health care spending (which has increased by 3.7% on an annual basis since 2010).
So how does all that relate to commercial real estate?
With rising costs at the forefront of patients' minds, many are foregoing hospitals and choosing outpatient facilities, such as urgent care. Urgent care centers are essentially on-demand care outlets equipped to treat serious ailments, including fractures, sprains, and wounds, making them (usually) a cheaper alternative to the ER. In fact, a 2016 study found that ER treatment costs were about ten times greater than in an urgent care center. So supply is ratcheting up to meet the demand for medical office space. According to Consumer Reports, the number of urgent care facilities increased from 6,400 in 2014 to 8,100 in 2018 and handle about 89MM patient visits each year–more than 29% of all primary care visits and nearly 15% of all outpatient physician visits.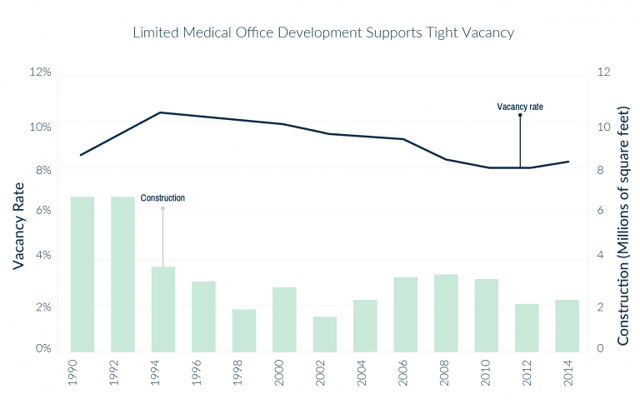 CBRE reported that the number of outpatient facilities overall jumped from 26,900 to 40,600 between 2005 and 2016. The national price per square foot of medical office properties has followed, boosting from $158 PSF to $283 per SF. Meanwhile, medical office vacancy rates have consistently been lower than the total office sector. Vacancy rates dipped from 11.1% in 2010 to 8.4% in the second quarter of 2018.
Interested in learning more about the state of commercial real estate?
Download Market Views, the latest research report from our Investments Team.
The views contained in this report are our own, based on the combined knowledge and experience of our Investments team.