The CrowdStreet Marketplace was built with the goal of serving the needs of every investor, with an emphasis on unparalleled deal variety. With the needs of our investor community being paramount, knowing what our investors are looking to invest in is one of the key factors in determining which deals merit inclusion on our Marketplace.
With just over 1,000 responses, our second annual Investor Benchmark Survey found that:
66% of investors plan to allocate more of their portfolio to commercial real estate (CRE)
98% of investors plan to make at least one CRE investment in 2022
Interest in multifamily ranked the highest among investors, with 93% of respondents somewhat likely or very likely to invest in this asset class this year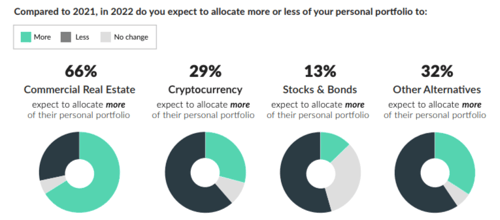 The report also takes a comparative look at the responses of newer real estate investors to those with more experience in real estate investing. The majority of our respondents have at least one year of investing experience, while a quarter had five or more years of experience. A plurality of these investors has made at least one investment in CRE projects. An impressive three-quarters of those who self-identified as experienced investors have made seven or more.
See how your investing strategy compares to your peers. Read our full 2022 Investor Benchmark Survey report here.